Yesterday I outlined the tremendous success of crude oil exports. The same, positive story applies to liquefied natural gas (LNG) exports as well. The major difference is the lack of pricing pressure in the natural gas  market. Prices collapsed in 2014 and have not returned to $4.00/MCF since. See below:
Nonetheless, the story of LNG exports has been a bright spot for US producers.
According to the Energy Information Administration (EIA), "US LNG exports reached 1.94 billion cubic feet per day (Bcf/d) in 2017, up from 0.5 Bcf/d in 2016." That's a quadrupling of exports in a single year.
Furthermore, according to the EIA, all US exports originated from the Sabine Pass liquefaction facility,
As can be seen below, things are just getting started in terms of LNG exports. As facilities continue to come online, exports will continue to rise. By the end of 2019 export capacity will be 9 times what it was at the beginning of 2016.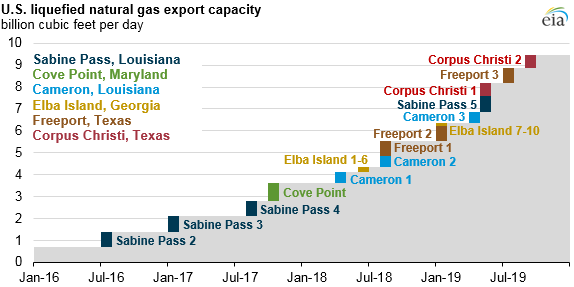 As with crude oil, China will be a major potential market for US LNG exports. According to a report published in May by the Brookings Institute:
China is the fastest-growing consumer of natural gas in the world. The Chinese government has initiated projects and campaigns to replace coal with natural gas in factories and for residential heating, which are the main sources of air pollution. In 2017, China's natural gas consumption increased by 15%, and its import grew by 28%. The country's import dependency climbed from zero in 2005 to 39% in 2017.
In other words, not only is American LNG helping to reduce the trade deficit with China, it is helping to clean the air in China and improve living standards in that nation…all while improving the bottom lines of American producers.
Talk about a win, win, win!