The issue of trade is a hot topic these days. But, with all the talk of a trade war from the Trump Administration, it is worth noting that the oil and gas industries are among the leading beneficiaries of growing free trade.
The ban on crude oil exports was lifted at the end of 2015. The ban had been put in place during the oil crunch of the 1970s (it was never a complete ban as some limited exemptions existed). The US House took a stand-alone vote on the issue although it was added to a broader piece of legislation in the Senate as part of a broader appropriations bill.
Since then, as the chart below shows, US crude oil exports have boomed. Better still, exports are expected to hit 4 million barrels/day by 2022.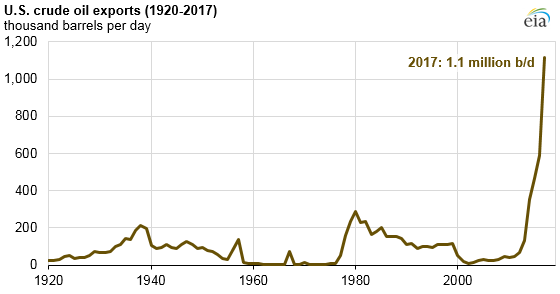 Possibly even more interesting is where our crude exports are going. As seen in the chart below, Canada and China import half of all US crude oil exports. Those are two nations the Trump Administration has been targeting both rhetorically and for higher tariffs.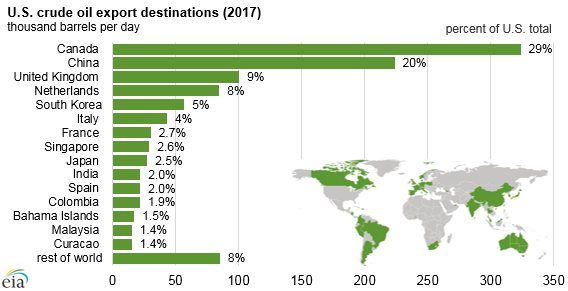 The boom in trade is helping producers right here in New Mexico which is now the 3rd-largest oil producer in the nation. And, the US will soon be the largest oil producing nation in the world.
Without a doubt oil and gas exports are a great economic success story. Absent trade restrictions US crude could go a long way toward reducing the trade imbalance with China and other nations.