From the free market/conservative perspective this was one of the best US Supreme Court sessions in history. If you are interested in finding out more about the fallout from this session and what it means for November and the future of our country, you don't want to miss this exciting luncheon event.

Speaker: Prerak Shah of Gibson, Dunn & Crutcher. Previously, Mr. Shah has served Acting U.S. Attorney for the Northern District of Texas, Chief of Staff for Senator Ted Cruz, and Chief Counsel for the Senate Judiciary Committee.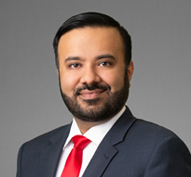 Date and time: Friday, July 22, 2022 at 11:45 a.m.
Location: Seasons Rotisserie and Grill, 2031 Mountain Road NW, Albuquerque, NM 87104.
Cost: $30, which includes a buffet lunch (the entrees will be green chile chicken sandwiches, BBQ sandwiches, and portobello mushroom wraps).
Click  here to register. Registrations are being handled by the Federalist Society, but this IS a joint event.