Albuquerque Mayor Berry continues to talk in platitudes and generalities about how his proposed $100 million bus system could be a "game changer" and "transformative" to Albuquerque. What he doesn't care to discuss is how the proposed system would impact overall mobility on Central.
Thankfully, Albuquerque is not the first city to have embraced dedicated lanes for bus rapid transit. Seattle has done so as well. And, according to a new report from the Washington Policy Center (a free market think tank based in Washington), predictions of improved traffic in areas served by the new transit system have not only proven wrong, but the exact opposite has happened. Auto traffic in the area has slowed dramatically.
The first table below are the predictions offered by public officials in advance of the project being completed.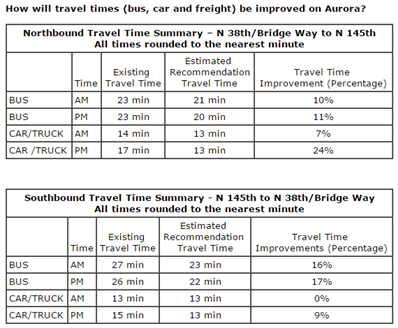 However, a recent official analysis shows that didn't happen. According to the SDOT report, not only did officials not provide the driving public with quicker trips, but for many people, travel times actually got worse after the policy took away part of the public street.  Even bus riders heading northbound during the afternoon commute have suffered longer commute times since officials reserved the public lanes for transit.
A comparison between reality and political promises is available below: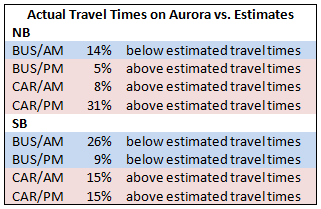 Yes, transit travel times generally dropped, but travel by car (car trips are much more common despite the addition of transit) got far more difficult and time consuming.
There is nothing wrong with building transit systems in order to serve high-density job centers. The idea of spending $100 million or more to purposefully make motor traffic worse in a chosen area in order to encourage "transit oriented development" is just silly.
Ultimately, if we are going to spend at least $20 million and an additional $2 million annually, shouldn't we use those dollars for real issues like policing and making our community a safer, more attractive place to live and work?